About Erin...


a little bit of everything...
Owner and Creator of The Natures Creatures Animal Show,
&nbspVeterinary Technician, Farm Program Manager, School Educator, and more....
| | |
| --- | --- |
| | Erin meets Jane Goodall, her source of inspiration for Nature's Creatures, during a book signing at a Roots and Shoots promotion in Chicago. |
For as long as anyone can remember, Erin has been surrounded by animals. Early on she earned a name for herself in the neighborhood as someone to call if anyone ever found a sick animal. By the age of 12, she had already been riding horses for years & spending her weekends working at local pony parties and petting zoos bringing farm animals to fairs and birthday parties. Her summer free time was spent landscaping a backyard water garden with dozens of Koi goldfish, and an all natural home made filtering system.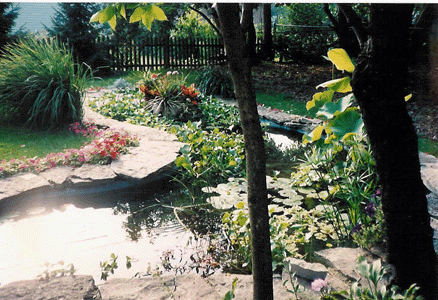 In high school, she worked at Pet Corner, a local pet store where she was exposed to new exotics from all over the world and immedietly fell in love with reptiles. By 17 she was holding "Iguana Care Classes" for customers and representing the store as the Livestock Manager at expos and trade shows. She also started breeding Ornate Diamondback Terrapins and other exotics and took in her first alligator. At this time, Erin's animal shows began voluntarily to local school classrooms with animals borrowed from the pet store for the day.
She worked at the store for 8 years, while she also taught horseback riding and horsemanship at Lucky Lass Stables. Her knowledge, care and natural ability with the horses gained her the respect and admiration of local borders and after a year of teaching, she was given a horse, "Ricky" by someone who appreciated her talent and dedication. (See Ricky Page.)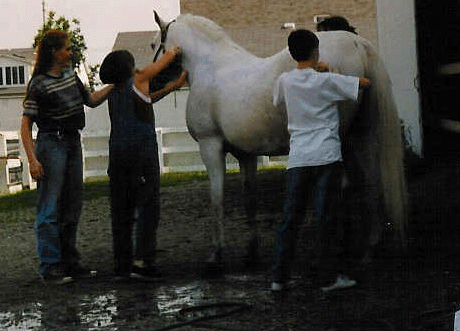 &nbsp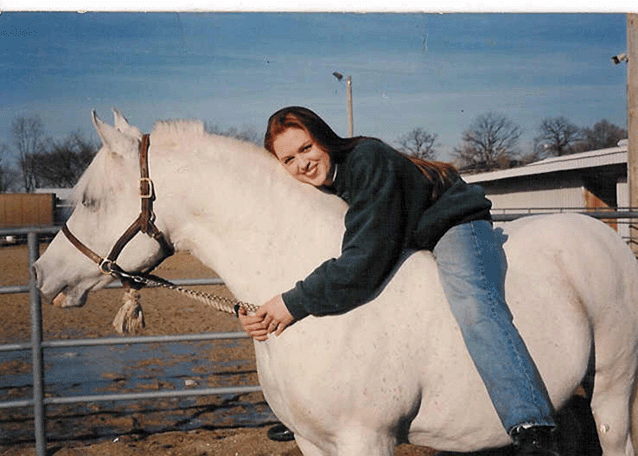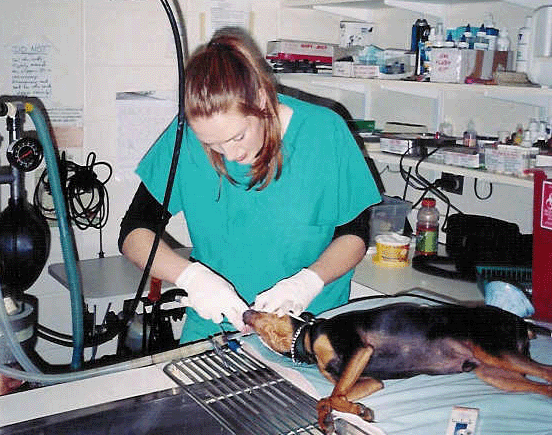 Erin performs routine dentistry work on her dog "Jack" at Bevlab.
During this time, Erin also found time to volunteer at the Lincoln Park Zoo in Chicago. Here, she worked for Dr. Ken Gold on social dynamics, abnormal behavior research, and animal enrichment studies on The Great Apes for 3 years.


Before long, Erin was recruited by a pet supply company to assist the management of the marine reef and aquatics department. Working with Aquatic Veterinarians inspired her to follow her lifelong dream of Veterinary Medecine. She trained to be a Veterinary Technician, and worked for Bevlab Veterinary Hospital for 8 years with special interests in small animal dentistry and parasitology. She performed dentistry work, radiology, labwork and assisted with surgery and emergency medical care for dogs, cats, small animals, birds and reptiles. Erin also volunteered occasionally at The Equine Clinic working on surgical procedures and ailments in horses and participated with a fractured leg surgery on a newborn foal! She also worked in Veterinary diagnostic labs doing zoonotic parasite lab testing directly for the veterinarians.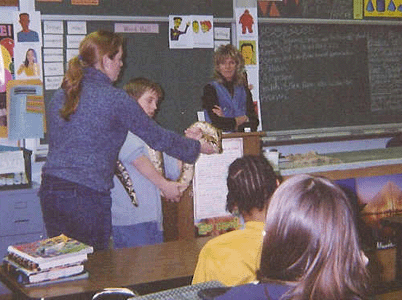 &nbsp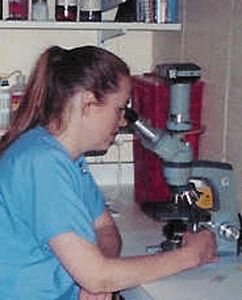 In the middle of her Vet Tech years, Erin stopped temporarily so that she could give teaching a try. She became a special education teacher's aide for the Chicago Public School System using ASL and Apraxia sign language with students. She also began her Natures Creatures "Pet Leasing Program" & tested it out in the classrooms throughout the school. However, after a few years of teaching, she soon found that working with animals was something that she missed too much to give up full time & returned to the hospital.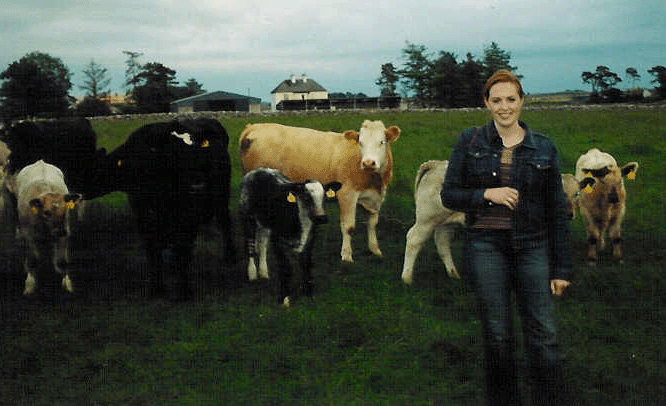 &nbsp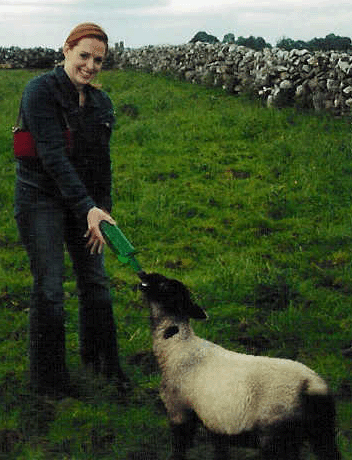 During many summers, Erin could be found in Ireland climbing mountains and sheering sheep by hand while visiting relatives and learning about farm life and animal care in the "old country".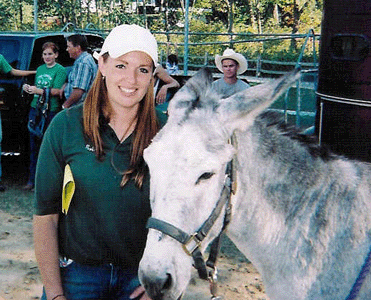 &nbsp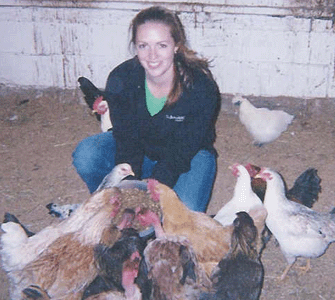 Erin also spent time as the Farm Tour Manager at The Children's Farm in Palos Hills, Il. Most of her efforts were spent working on ideas to improve the farm field trip experience for the thousands of kids that visit the farm every year.
She started the "Hot Bran Mash Parties" where families cook special treats for the animals in the winter time, and considers animal enrichment and sensitizing people young and old to farm animals as one of her top concerns.
She started the "Animal Enrichment Class" which focused on learning to understand how animals think and behave so that training methods and interacting with them could be more beneficial for both parties. Young teens and adults worked on gentling animals and training them in a non-forceful way. They also learned ways to stimluate the animals brain and senses by providing toys and tools for the animals to play with and explore.
During her year at the farm, Erin also began many movements for positive and humane changes for the animals, including a fenced in pasture for the goats, sheep, cows and pigs to run and graze naturally, more space for the horses to reduce ailments and stress, possible budgeting for new box stalls for all of the horses, and outdoor cover for the chickens, ducks and pheasants. She also had new traffic signs made to keep children and other visitors to the farm safe.
Erin also assisted Miss Kay with the "Junior Farmer" program, helped the farm 4-H kids, and was the regular "animal lady" visiting Nature Discovery Preschool located on the farm. Every week Erin brought a new animal to learn about right into the classroom. Sometimes it might be a duck, chicken, snake, lizard, spider, talking parrot or maybe even a pony!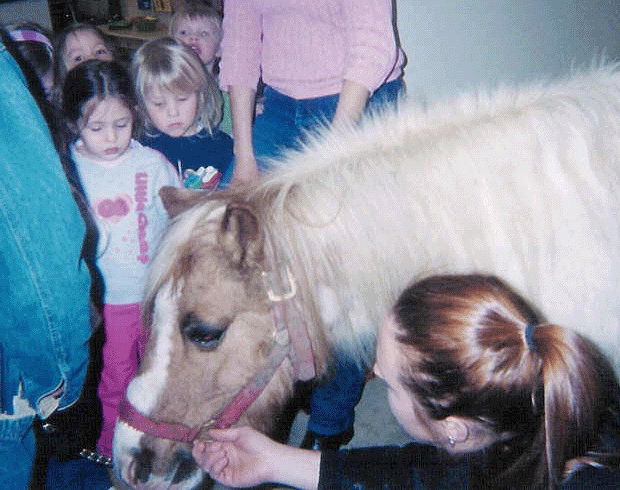 &nbsp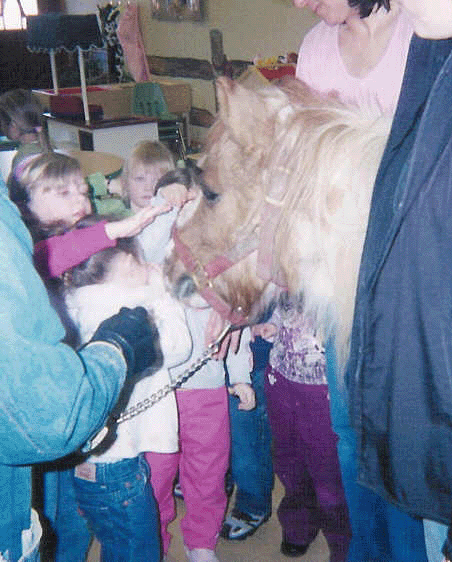 These days, when Erin is not doing a show, she fills in as an ER/ICU Veterinary Technician in Chicago as well as a Large Animal Veterinary Technician working out in the country on horses and farm animals. She is also developing the "Pony Program" where her new friendly pony, "Pony O'Malley" will come visit kids for birthdays, but also at schools, hospitals, child care centers and special needs centers.
Today, as finances & time permits, she continues her education either out traveling in the field or in the classroom, studying Zoology, Botany, Wildlife Ecology, Veterinary Medecine, Art and Education. "Its the blessing of being indecisive when it comes to careers!" She wants to do them all, and continually finds ways to do it!
In her free time, Erin explores new ideas for the expansion and improvement of the animal show. She also loves organic gardening, traveling and painting oil and acrylic artwork which can occasionally be found for sale in south side galleries.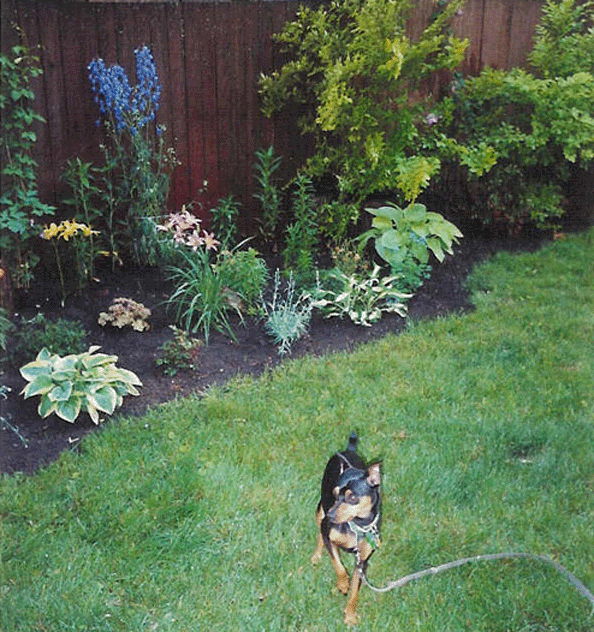 &nbsp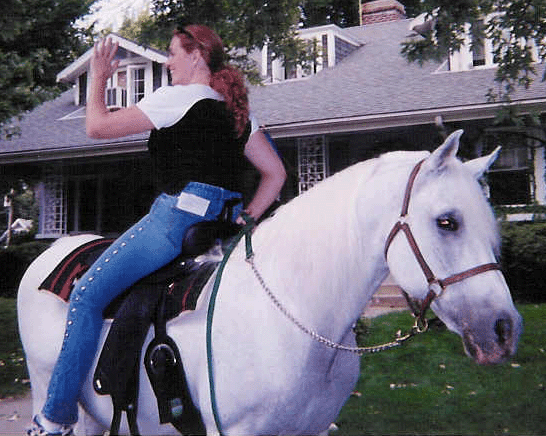 ---
(773)881-9379