My inspiration for Nature's Creatures is best defined through this quote:
| | |
| --- | --- |
| "Only if we understand... | |
| | |
| --- | --- |
| | ...will we care, |
| | |
| --- | --- |
| only if we care... | |
| | |
| --- | --- |
| | ... will we help, |
| | |
| --- | --- |
| only if we help... | |
| | |
| --- | --- |
| | ... shall they be saved." |
| | |
| --- | --- |
| | -- Jane Goodall |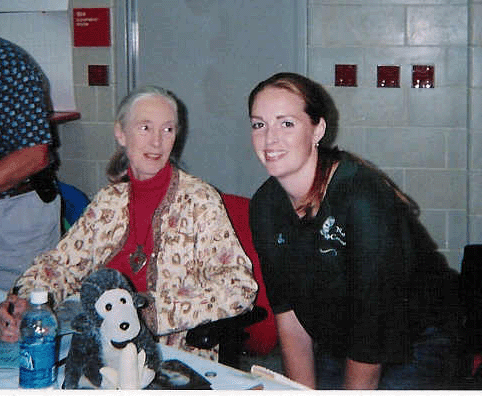 This program teaches about animals and nature. The animals do not do tricks, but rather represent themselves as tame friendly pieces of our shared world. When we pause to look at them, learn about them and how they live in our shared environment, we end up learning many valuable facts about our world in relation to them, and about ourselves.
This program compliments the Illinois Learning Standards of grades K-8.
The program topics cover natural history, animal behavior, reproduction & caring for young, environmental niches, habitats, communication, senses, finding food, our changing environment, and many more interesting facts.
Older groups of kids explore even more ideas....
We touch on the animal pet trade and our impact on it as consumers purchasing wild caught vs. captive bred specimens.
"Hank" the Alligator tells his life story as he teaches the great impact of when ONE animal is removed from the wild and turned into a household pet.
We also discuss the Burmese Python crisis currently taking place in Florida caused by released pet snakes, how it may have been prevented, and how we can solve this problem.
How Natures Creatures began.... I grew up as an animal and nature enthusiast long before the "Crocodile Hunter" and "Animal Planet" television programs ruled the lives of todays children. National Geographic programs on amazing people like Jane Goodall, or Marty Stouffers Wild America were part of my every day.

Reading Jane Goodalls books on her experiences, as well as meeting her many times has changed my life. Jane is a woman who revolutionized the animal world and changed the worlds views on how they are treated, and our role in relation to them. Her kindness, patience and enthusiasm has been a huge inspiration to me not only in the development of this program, but in my own personal approach to working with animals and children. She continues to inspire me now as she travels the world promoting her "Roots and Shoots" program inspiring children, teachers and families ....that ONE person can make a positive difference in our world!
I hope that everyone who attends the show leaves with a better understanding and respect for all of natures creatures, and has seen how important every single creature is to our world and its ecosystem.
I also hope that pet owners and potential pet owners take the time to learn about their animals and their unique special needs. I try to promote being responsible pet owners by making positive choices to benefit our world, for example by choosing captive bred vs. wild caught animal specimens. Therefore, we can all be the best possible caretakers for all of nature's creatures!
"Our important message is to teach respect for ALL living creatures!. After all, how can we expect the next generation to be caring responsible adults if we don't demonstrate that very act to them?"
Special Thanks....
"Many people have helped the launch of Nature's Creatures. Inc. Without this support from every angle, from free services and advice to funding and assistance, Natures Creatures would not be here today, and making a difference!
Some of the people that I would like to thank are: Sean O'Malley, the Barba Family, Maureen McCabe, Dan McCabe, Marilyn, Bob & Casey Reidy, Michelle Smith, Anny Duszynski, Corina Fitzpatrick, Scott Katzberger, Jay Martinovic, Jim McAloon, Oliver McGarry, Sean Draves, John Jaros, Joan & Katie Braunschweiger, Richard Malena, Mike Payne, John Ruzich, Kay Ardizzone, Alex Garcia, Bob & Chris Dillon, Barry Conway, Bill Kuchin, Paula Nelson, Dr. Ken Gold LPZ, Dr. Robert Keough DVM, Dr. Alan McClain DVM, Dr. Leslie Plowe DVM, The staff at Bevlab Veterinary Hospital, The Forum High School, The Children's Farm volunteers and friends, and the support of the entire Yanz, McGarry & McCabe Family.
...and to all other friends & family that have supported NC's crazy dreams & ideas through the years! Thank you!!--Erin
---
(773)881-9379